ERA CoBioTech: Kick-off session "Biotechnology for a sustainable bioeconomy" at ACHEMA 2018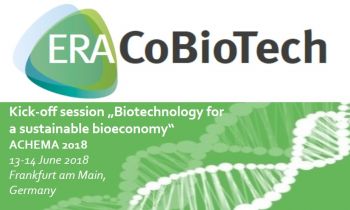 The ERA CoBioTech kick-off session will take place on June 13/14, 2018, in Frankfurt am Main, Germany
Coordinators and representatives of 22 research projects - emerged from the ERA CoBioTech's call, cofunded by the European Commission - will present their research projects on June 13-14, 2018 in a kick-off session at the ACHEMA congress in Frankfurt am Main in Germany.
The research projects with an entire funding volume of ca. 31 M€ and duration of 36 months started in 2018 and will contribute to transforming the global economy from a dependence on fossil raw materials to a sustainable bio-based economy. The speakers will present their innovative interdisciplinary approaches for the development of sustainable processes for conversion of different feedstock and bioresources, creation of new biobased products and improvement of existing industrial processes in terms of their sustainability. The agenda of the kick-off session can be found under the links below:
The kick-off session will take place in the "Congress Center Frankfurt Messe" (CMF) in room Conclusio 2. Participation in the kick-off session is free of charge and is open for everyone. However, a ticket to enter the ACHEMA 2018 is required. Information about ticket sales for ACHEMA can be found here.
Networking reception
On 13 June 2018 (6 – 8 p.m.) ERA CoBioTech will organize a networking reception in the foyer in front of the plenary hall, "Conclusio 2" (CMF). The reception will provide an opportunity to speakers of the kick-off session, funders from ERA CoBioTech, representatives of research projects funded by other initiatives (e.g. SPIRE, BBI), representatives of companies operating in the domain bio-economy and guests to discuss and exchange information and will serve as a platform for networking and matchmaking.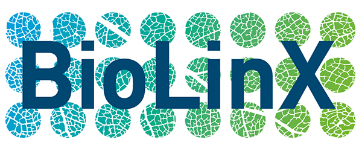 The networking reception is underpinned by the H2020 project BioLinX (http://www.biolinx-project.eu/ ), which is supporting research projects in commercializing their innovative ideas and connects them to markets and regional networks.
Your registration for the event will also allow you to explore the list of registered participants and select potential partners to meet during the event. After the event, the BioLinX registration platform will be used to arrange online meetings with potential partners and to deepen the contact.
The online brokerage event offered by BioLinX on 27.06.2018 will provide an additional possibility to spark further collaborations and join participation in future calls of ERA CoBioTech without the need for traveling.
Both events, the kick-off session at ACHEMA in Frankfurt and the online brokerage event are free of charge. However, registration is required.
Take the opportunity to meet potential cooperation partners easily, onsite and online.
Register HERE                                                             
For further information, please send E-mail to Boris Vashev, Agency for Renewable Resources, b.vashev@fnr.de .