28/05/2021
ERA CoBioTech Biotechnology & Society Seminar Series 2021 from 9 June to 7 July 2021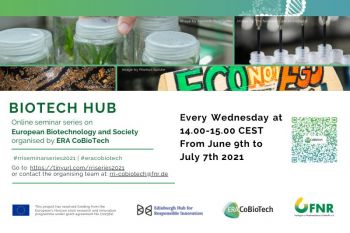 ERA CoBioTech invites to the European Biotechnology and Society Online Seminar Series 2021.
The second online seminar series continues the ERA CoBioTech additional activities programme, organized in the framework of the European BioTech Hub by FNR in collaboration with the University of Edinburgh and Durham University.
The series, consisting of five seminars, will again focus on the social, environmental, political and ethical dimensions of biotechnology in Europe and will run weekly on Wednesdays from 9 June to 7 July 2021 at 14:00 – 15:00 (CEST).
Format
Each seminar will bring two speakers into dialogue, offering their perspectives on new approaches, methods, and analyses that help us understand the place of biological science in the world today.
With speakers from within and beyond ERA CoBioTech, the sessions will address the following topics:
Responsible research & innovation;
Environmental, social and economic sustainability of biotechnologies;
Interdisciplinarity methodologies for collaboration across the social and natural sciences;
Communicating the social responsibility of science;
Science policy activities of research funders;
Practical lessons about responsible research & innovation from researchers at the interface of science, technology and society.
The full agenda is available at the link below:
https://tinyurl.com/rriseminars-agenda
Participation
The event will take place on zoom. A link to join will be sent together with the confirmation of your registration. Participation is free of charge but requires registration, which you can do here:
https://ed-ac-uk.zoom.us/meeting/register/tZMvfuisrToiGtZbdJIIaTXiTNwycELxmhjk
Further information
Please visit the special event website to find most recent information, or contact the organising team at rri-cobiotech(at)fnr.de.