18/08/2020
ERA CoBioTech Research and Innovation Hack 2020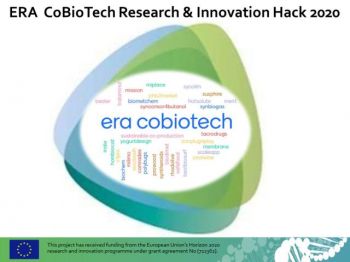 FNR organised a series of six online seminars on behalf of ERA CoBioTech from 16 to 25 June 2020 to replace the live event, which was planned for March 2020 and postponed due to the COVID-19 outbreak.
During the online sessions, the progress and achievements of 34 excellent research projects funded by the network and its predecessor ERA-Nets were presented, followed by lively discussions.
The event consisted of the kick-off session of the five projects, funded within the second call of ERA CoBioTech, the midterm seminar of the 22 projects from the cofounded projects of ERA CoBioTech and the final seminar of 7 projects funded under the 7 joint call of ERA-IB-2- ERA-NET "Towards an ERA in Industrial Biotechnology".
In total more than 120 attendees joined at least one of the sessions of the status seminars and learned about the plans of the new projects, the progress of the ongoing projects and achievements of the projects close to their end. Despite the difficulties caused by the lockdown due to COVID-19 and stopping the research activities for months, all projects have found good ways to compensate the delays and to stay on good track. Very impressive results and many publications (more than 70 have published or submitted for publication) in the different projects have been reported. Further, some projects have already registered patents to protect their results and other patents are in preparation.
Many activities to educate the general public and increase the acceptance for biotechnological research were reported as well. Some highlights are for instance the Microstrike board game developed in the Membrane project and Lego Serious Play (BioMetChem project). In addition, many other project have carried out activities such as open days, trainings for teachers, students and other stakeholders etc.
To learn more about the events, get the presentations from the status seminars under the following links:
For more information, contact Dr. Boris Vashev at the FNR.