30/11/2020
Thank you for participating in the European Biotechnology and Society Online Seminar Series!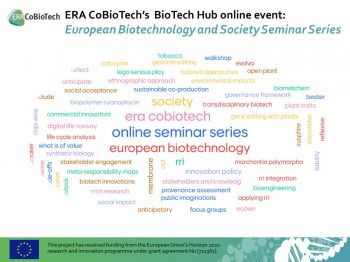 We have now reached the end of the European Biotechnology and Society Online Seminar Series, convened by the ERA Cofund on Biotechnology.
Over the course of six weeks (from 30.09.2020 - 04.11.2020) and six seminars, we were privileged to hear presentations from 12 groups of speakers and one discussant with diverse perspectives: scientists, philosophers, research funders, and social or interdisciplinary researchers. Speakers shared their practical and conceptual work on social, environmental, political and ethical dimensions of biotechnology in Europe. We were also delighted that each week more than 40 audience members joined us – and well over 60 on some occasions. Over the series there were over 200 unique registrants from 29 countries from Europe and beyond. Thank you for your participation!
We kept to a tight one-hour schedule to allow maximum attendance, but there were still opportunities for audience input and discussion between speakers. Interesting challenges and tensions in enacting responsible research and innovation (RRI) often emerged in discussions, including: What does it mean to innovate responsibly? How can RRI be adequately funded and supported? Whose responsibility is RRI? Should we even talk about "RRI" - is it a helpful term? And how do we innovate responsibly when many systems incentivise irresponsibility? Early feedback suggests that the audience valued the format, the variety of speakers, and the discussion sessions.
The Seminars series led to new opportunities, ideas, and connections among the participants and had broad impact beyond the ERA CoBioTech community. Jonathan Hankins (Fondazione Giannino Bassetti), who attended the European Biotechnology and Society Online Seminar Series, published a comprehensive review on the series in two parts: Review, Part 1and Review, Part 2.
We will continue to review feedback and communicate what we have learned from the series. We are also considering how this series might continue in the future. If you attended any of the seminars, caught up with them via the video link afterwards or just have any suggestion for the format and topics of the future BioTech Hub Workshops we would be very grateful for your feedback.
The materials from all seminars are available on the event website:
https://international.fnr.de/eu-activities/european-projects/european-biotechnology-and-society-online-seminar-series